Mole control in Sussex
Moles are a common problem in rural areas of Sussex. To remove your mole problem, we offer mole control the traditional way with our "No Mole No Fee" promise.
Reasons to take action with a Mole problem
Prevent damage to machinery when cutting silage or harvesting crops
Prevent injury to cattle on pastures and to horses on racecourses and gallops
Prevent soil contamination of silage to protect animals (principally sheep) from listeriosis
Maintain the playing surface on golf courses
Avoid damage to visual amenities such as lawns
Watch the video below to see how John catches moles:
Cost of controlling Mole problems
Domestic Properties – "No Mole No Fee" promise
At Bailey Pest Control we don't charge a call out fee, hourly rate or on site charge. We only ask for payment on every mole we catch. This means you pay for my field craft and skills as a traditional mole catcher – if we don't catch your problem mole, we don't get paid.
Agricultural Land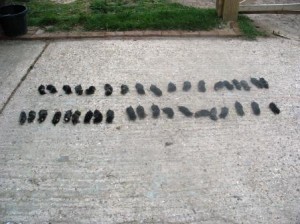 For farmers or larger landowners Bailey Pest Control can offer a weekly mole catching service. The same "No Mole no fee" applies however the rate per mole is discounted over 5 to 7 days. We will catch as many problem moles as the client requests in order to meet their objective for that land.
Rolling Contracts
Bailey Pest Control can offer farms, estates and small holdings services on a regular basis. The costs of the contracts are flexible and negotiated to meet the client's needs.
"No Mole No Fee" guarantee
Mole catching using traditional methods is fast becoming a thing of the past. But as is often the case, the old ways are usually the best. In bygone days parish councils would employ a mole catcher on an agreed annual contract, with the catcher then able to supplement his income by selling skins of his victims. For the hard worker, it could be a very profitable trade. Farmers also paid good money to be rid of the mole, as the fly tipped soil contaminated fodder crops and rendered land unusable.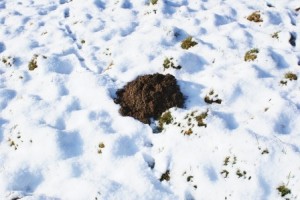 As time passed, however, numbers of traditional mole catchers dwindled, possibly for two reasons. Some say mole catchers were victims of their own greed, refusing to pass their knowledge on and taking the tricks of the trade to their grave. Also, as rural populations grew, so did the number of rats and parish council priorities changed from needing 'mole catchers' to 'rat catchers'. However, moles remain just as big a pest today as they have for hundreds of years.
Bailey Pest Control, which specialises in traditional mole catching techniques, trap on a 'per mole' basis – and if we don't catch any, then we won't charge you a penny.
Learn More About How To Control Your Mole Problem
What previous customers said…
"Bailey Pest Control has done a stunning job at removing the moles from our farm.  We were infested with them which was badly affecting our silage. John Bailey did a superb job. He works hard and fast and, most importantly, delivers results. He caught 85 moles and we now have silage fields free of moles – a huge relief." Elizabeth Buchanan, Black Ven Farm, Nutley.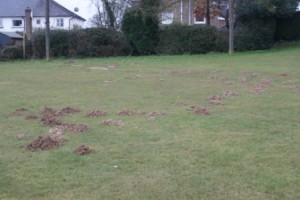 "Mr. Bailey has been instrumental with his help regarding Woodland Management, for us at Picketts Wood Campsite, which is owned & run by Sussex East Guides. Mr. Bailey also operates a pest service, which has enabled us to control our mole population effectively, and in an environmentally friendly manner. We would have no hesitation in recommending his services either in Woodland Management or as a pest controller" Mrs Weston – Chair of Management Committee Picketts Wood County Campsite / Girlguiding – Sussex East
"John is the man when it comes to moles! He had only set the trap for 10 minutes in my garden when he caught the first one. I would strongly recommend his services to anyone who wants to get rid of the little critters." Tim Reeves, Nutley
We offer mole control the traditional way with our "No Mole No Fee" promise!
"I would defiantly recommend John for mole catching – before we rang him we had over 100+ mole hills. He managed to catch 32 moles in 4 days and with his "no mole no fee promises" we only paid for the moles he caught." Caroline, Pickets Wood Uckfield