Pest Control in Burgess Hill
At Bailey's Pest Control we're experts in a range of pest control services, specializing in rat catching and control, working throughout the Burgess Hill area in West Sussex.
Unfortunately, many Burgess Hill residents may be familiar with rats due to the fact the rat population has been growing in recent years. This is especially true in urban areas where sewer systems have increased in capacity.
If you suspect you have a rat infestation, we're here to deal with the problem quickly, efficiently and effectively and work across commercial and residential properties. If you're in Burgess Hill, call us on 01444 810827 or 07791915502 – we're here to help and are open 24/7.
Rat control services in Burgess Hill
Our professional and highly experienced team carry out expert services including:
Free initial site surveys
Infestation report and action plan
One off or routine treatments
Trappings, bair hoppers, pesticides, rodenticides and insecticides
Prevention – replacing interceptor caps
Choose us in confidence – our approach is ecological and we are part of the Think Wildlife campaign for responsible rodenticide use.
Previous pest work in Burgess Hill
We've worked in the area for many years and our proven solutions are very effective in eradicating rat infestations. We investigate, diagnose the issue and use tested methods to fix it.
Rats in the drains
We get a lot of work in the area and that's because rats thrive in the sewers of Burgess Hill, when they get to bursting point; female rats seek sanctuary in the loft or cavity wall, Forcing their way into the house by tunnelling.
90% of all domestic rat jobs Bailey Pest Control carry out in Burgess Hill come from the sewer/drains. They make their way from the drain to the sewer in two ways via an interceptor cap missing or direct via a straight through system.
Rats in rural areas
Of course, rats don't only infest urban areas and we have lots of experience in more rural settings. This includes rats in gardens, on farmland and for businesses such as fisheries in the local area.
Outdoors, rats can easily move along streams and decide to settle in or around various properties. It may be that you can physically see or hear them, or notice rat droppings. Once you suspect rats, we will investigate and fix the problem.
Solutions to rat infestations in Burgess Hill
The solution to prevent future outbreaks comes from fixing the problem at the source by amending the defected drain and stopping rats gaining access off the sewer system.
The interceptor caps can be replaced by Bailey Pest Control – this will prevent access as rats very rarely swim under the U bend.
The Metex Nordisk TX11 one way valve rat blocker
The one way valve rat blocker is the only solution to the straight through systems. These rat blockers prevent rats from entering buildings via the sewer system, while allowing the free flow of waste in the other direction.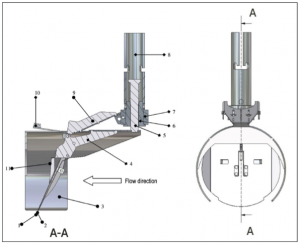 We have used these many times with success and it may be the solution you need, depending on our investigations.
We have many happy customer testimonials from the Burgess Hill area:
"I reside close to a stream and noticed that I had a number of rats coming up from the stream and entering my garden. I contacted Bailey Pest Control for a solution. John came out within 4 hrs, laid rat boxes in a secure place and promised it would require just 2 further visits to eradicate. True to word, since John has been we have had no more rats visible. John was very professional and his costs were reasonable. I would highly recommend John."
Burgess Hill Customer
"Called numerous pest control companies to manage the rats at my 300 acre fishery, but John at Bailey's Pest Control was the only man willing to take on the task in hand. What a job!!!! Happy members, happy owner, can't recommend him enough."
Burgess Hill Customer
Burgess Hill homes flooded with rats
Rain in December pushed rats above ground into the streets and homes of Brighton residents, which has also been seen in the Burgess Hill area. On this occasion, one very unlucky resident found a rat in the u bend of his toilet one morning.
Watch this video to see some of the issues rats can cause in homes when they enter through drainage systems:
Contact us today
If you suspect rats – see rat droppings, hear rodents, see grease marks – contact us on 01444 810827 for more information about pest control in Burgess Hill, or email john@baileypestcontrol.co.uk.