Wasp Nest Removal & Control
Do you have a wasp nest problem in your property? We'll get rid of the wasp nest problem quickly, cheaply, safely and effectively.
Wasp problems in Brighton, Hove, Burgess Hill, Sussex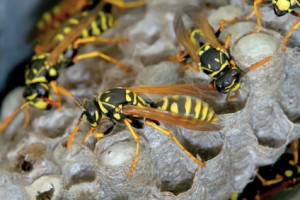 Sussex is renowned for a high concentrations of wasps throughout the summer months, hundreds of them can be seen patrolling the beaches and town gardens particularly around Brighton & Hove looking for sweet substances. They can be identified by their colour – brightly banded in yellow and black (the hornet is yellow brown only). It arrived in Brighton & Hove in the mid-80s and is 1.25 inches long – twice as big as Britain's native common wasp. Be extra careful with these continental wasps. Stay well away, try not to do anything to aggravate them and call in an expert.
Bailey Pest Control will only destroy a wasps nest that posses a threat to your family or other members of the public. They will also guarantee the destruction of the nest. It is possible for you to treat a wasp nest yourself with DIY products; however this is generally not advised. If you do require professional help then we will carry out the work for a price much more competitive than similar council services.
Wasps and their behaviour
During the late summer and early autumn, wasps nests may contain many thousands of wasps. The queen wasp actually builds her nest in the spring and over the next few months lays eggs to enlarge her colony.
Wasps are not as aggressive as people sometimes think but they will sting if you swat at them when they are exploring your sugary drinks and ice creams. Wasps become more aggressive in the autumn as they begin to die off and go in search of sugary foods to maintain their dwindling energy supplies.
Wasp nest destruction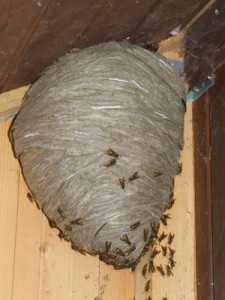 Bailey Pest Control, pest control operatives can treat the nest with an approved insecticide dust. One single treatment should be all it takes to eradicate the pest. However if one treatment does not kill all the wasps, a re-visit can be made at no charge.
Please note that we do not take nests away. Nests are not recolonised after the wasps have been killed. If you decide to remove the nest yourself, please dispose of it safely, e.g. in a polythene bag, in the domestic refuse.
What previous customers said…
"I would like to introduce Bailey Pest Control to you. John Bailey owns the Company, and he is fantastic. We had a wasp's nest 60 feet up a tree which had to be pruned and this could not be until the wasp nest was removed. We search everywhere for a pest company, but no-one would take the job. John came over late evening, because wasps go home to nest at that time, and did the job superbly." Mrs Campbell – The Ruth Campbell Partnership